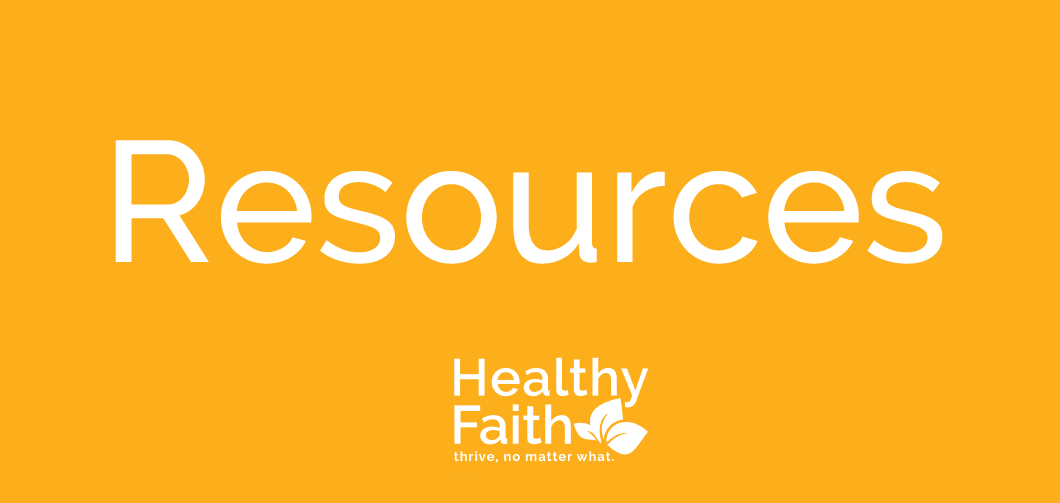 HealthyFaith.Net is committed to providing you the most trustworthy, up-to-date, and helpful health and faith information you can find online. How can we do that? There is only one way—all of the information you receive from HealthyFaith.Net passes these tests:
Only Recognized Organizations
You can trust the information on HealthyFaith.Net because it is consistent with the information from one or more of the three most nationally-recognized health resources:
The National Institutes of Health
The National Health Council
The nation's most respected non-profit organizations
These non-profit organizations provide information and services for specific diseases and disabilities. See the list below of HealthyFaith.Net's National Advisory Board for a non-profit organization that speaks to your precise interest. If the area of your interest is not on this list, please see the list included on the NIH's website.
Only Respected Websites
We recommend any one of the three popular health web sites that are the most respected by many physicians, medical organizations and associations.
NIH.com – National Institutes of Health (NIH) is the primary agency of the United States government responsible for biomedical and health-related research. It has 55,000,000 estimated unique monthly visitors.
WebMD.com – WebMD is one of the world's most popular health and health care web sites. It has information including a symptom checklist, pharmacy information, prescription drug information, blogs of physicians with specific topics and a place to store personal medical information. As of February 2014, WebMD has recorded an average of 156 million unique visitors per month and 3.17 billion page views per quarter.
MayoClinic.com – MayoClinic.com has 30,000,000 estimated unique monthly visitors. Mayo Clinic is a not-for-profit organization and proceeds from web site advertising help support the overall mission of Mayo clinic. Mayo Clinic does not endorse any of the third party products and services advertised. It is the first and largest integrated nonprofit medical group practice in the world.
Be Careful About Other Websites
The Internet makes it possible for you to quickly find a wealth of health resources. Some provide useful and helpful information, others are inaccurate and harmful. Sometimes it is difficult to tell the difference. How can you be sure a web site is providing you information you can trust? Remember these critical facts.
Some are inaccurate. Be suspicious and assume some web sites have an agenda and their information is not accurate and may be dangerous.
Some are selling. Remember some web sites appear to provide unbiased information but are actually selling a product and therefore have prejudiced information.
Some are outdated. Not all web sites keep up-to-date information. Check out their sources. Compare the information to the other sites recommended above that are more highly recognized.
Some are prejudiced. Some web sites appear to be offering help, but are actually promoting some cause, religion, philosophy or secret agenda. Once again, compare the information with other more recognized web sites.
More Detailed Evaluation. For a more extensive explanation of how you can be sure the information you are getting is safe and reliable, read the article on "Finding and Evaluating Online Resources" available on the NIH web site.
Historic Jewish/Christian Worldview
The faith information provided on HealthyFaith.Net is consistent with mainline, historic teachings of the Jewish/Christian worldview as interpreted by Bill Nichols, Ph.D. and other respected theologians and religious leaders.
Many perspectives and opinions. No one web site or book can provide you with a comprehensive description of what all Christians or Jews believe. Since faith and religions are so personal and have such long histories, there are many perspectives and opinions about each.
An Excellent Overview. For the most comprehensive and clear overview of the Hebrew/Christian worldview, Dr. Nichols recommends two books and two web sites:

A long overview: Life's Ultimate Questions by John Newport
A short overview: Mere Christianity by C. S. Lewis.
Two popular web sites. Two web sites that provide some of the basic Jewish and Christian beliefs are: Religiousfacts.com, and Jewishbeliefs.org