No Wonder We Have So Much Trouble Understanding Faith
Bill Nichols, PhD.
Ask ten people, "What exactly is faith?" You'll probably get ten different answers. If you think about the many ways the word faith is used today, it's no wonder people have so much trouble understanding what faith is.
Mother Teresa's sacrificial work helping impoverished people in India is said to be a result of her "faith."
David Koresh, the Waco, Texas-based Branch Davidian cult-leader, led his followers in an intense gun battle where four federal agents, seventy-six Branch Dravidians, twenty children, and two pregnant women died. News reporters said Koresh and his followers were motivated by their "faith."
One of the reasons I wrote Healthy Faith: A Strategic Lifestyle Plan to Transform Your Head, Heart and Hands was to help people understand the biblical meaning of the word faith. Because, until we have a clear understanding of what faith is we will never find the kind of faith that we're looking for.
Over the years, in counseling people who were struggling with their relationships with others and God, I noticed that many started their faith-journey with a distorted idea of faith.
Having a correct understanding of faith is the first step in developing the kind of faith that works. Having a clear understanding of faith and a clear plan to grow that faith, makes it possible for you to get the faith you always wanted and needed. That's what Dr. Jan Patterson found.
Jan Patterson, MD, an internationally recognized physician and an Associate Dean at the University of Texas Health Science Center at San Antonio, read Healthy Faith and made this observation.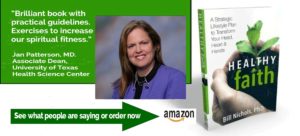 "I've read a lot of good books on faith and spirituality–ones that inform, ones that soothe, ones that inspire. But I've never read one with practical, concrete steps on how-to build a healthy faith like this new book from Dr. Nichols. He combines his academic seminary knowledge with stories from years of experience working with others in crises, as well as his own dramatic life story. Each chapter ends with exercises to record, remember, reflect, re-examine, and relate, and with a prayer. It's a directed way to grow your faith in each of the important areas that are addressed by each chapter. We've needed a book like this for a long time. I'll be giving it to friends, graduates, and family–to anyone interested in growing a healthy faith."
Maybe Healthy Faith is just what you need. I invite you to examine the Table of Contents and read the Introduction. Click here and you can get a "Look Inside" the book and see what Dr. Patterson was talking about.
Bill